8 Free Printable Woodland Baby Shower Party Games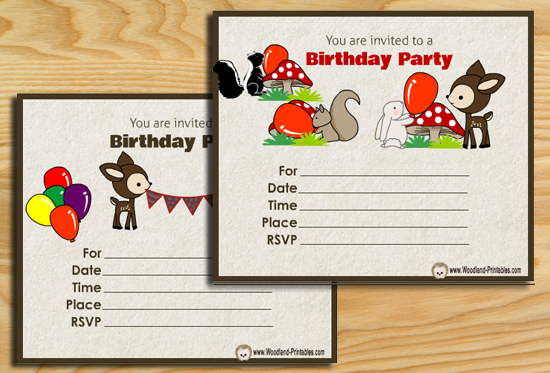 I am sharing some cute free printable Woodland Birthday Party Invitations on this page that you can print using your home printer to invite guests to your kid's woodland themed birthday party. These adorable invitations are decorated with images of woodland creatures such as deer, squirrel, skunk, hedgehog, hare and owl. I have also added some birthday related graphics, such as balloons, confetti and cake to make these invitations more beautiful and suitable for a birthday party. Just click on the image of any invitation thumbnail and a bigger printable image will open up with two invitations. You can either save that printable image or take a print out right away. There are fields like for, date, time, placen and RSVP that you can fill up ideally with a felt tipped pen before sending these invitations out to you guests.
---
Cute Free Printable Woodland Birthday Party Invitations

This is a very cute invitation with images of a squirrel and a deer which are hanging a birthday banner on a tree. There are colorful balloons in the background that give this invitation a charming look.

Free Printable Woodland Creatures Birthday Invitations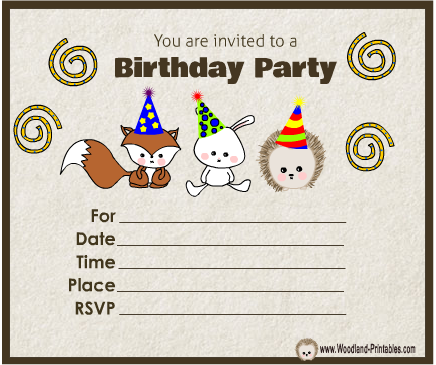 This my most favorite birthday party invitation with a baby fox, a baby rabbit and a baby hedgehog. All of these animals are wearing colorful party hats and sitting together.
Woodland Birthday Party Invitation featuring Cute Owl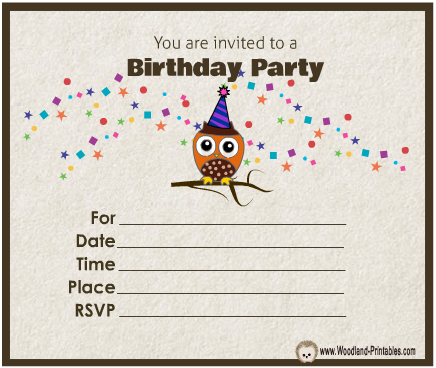 This is another woodland birthday party invitation featuring a very cute owl. These is colorful confetti in the background.
Cute Woodland Invitation for Birthday Party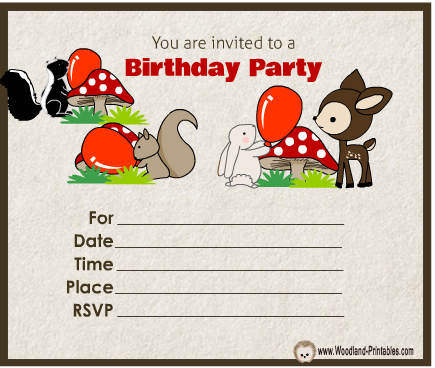 This is another adorable free printable birthday party invitation in which cute woodland creatures are playing with balloons.
Woodland Birthday Invitation featuring Cute Owl, Fox and Hedgehog
This is another very cute birthday party invitation with image of a hedgehog, a fox and a very cute owl. All these animals are gathered around a cute birthday party cake. I am sure that your birthday party guests would love this invitation.
---